IDIOMS AND PHRASES – 4
IDIOMS AND PHRASES -4 Idioms and phrases meaning in Hindi Post में बताए गए सभी idioms meaning in Hindi and English का प्रयोग अंग्रेजी वाक्य में बहुत महत्वपूर्ण माना जाता है, इन सभी idioms in English with Hindi meaning के प्रयोग को सीखकर कोई भी अपनी अंग्रेजी को काफी बेहतर बना सकता है। Idioms and Phrases प्रतियोगी परीक्षाओं में पूछे जाते हैं तथा इनकी तयारी परीक्षार्थी हमारी Website यानि www.nokarino.com से प्राप्त कर अपने ज्ञान में वृद्धि कर सकते हैं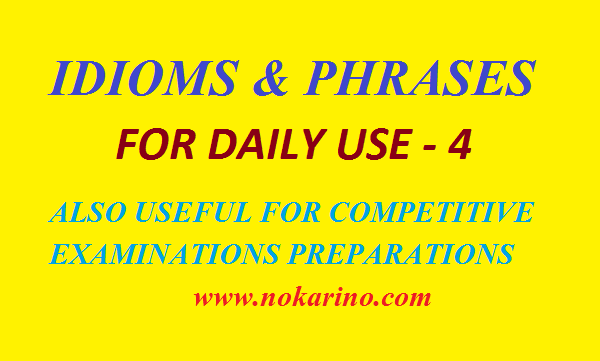 जाँच के लिए चलाकर देखना – Try out
You should try out that T.V. set before you finally buy it.
किसी के खिलाफ खड़े हो जाना – Turn against
We have been such good friends and I had no idea that he would turn against me.
He turned in his answer paper and came out of the examination hall.
निगरानी करना, रक्षा करना – Watch over
The dog faithfully watched over his master's sleeping child.
This colour will wear off soon.
समय नष्ट करना – While away
Get to work. Don't while away your time in trifles.
I can wink at his faults no longer.
किसी तरीके से खोलना – Work open
I had lost my suitcase's key, but somehow I managed to work it open.
मुख्यत :, खासकर – Above all
Above all, don't mention this to Hari.
हक्का-बक्का होना – Aghast
As she entered the hospital she looked aghast at the bed of the wounded.
Also Read- HPGK MOCK TEST, HPGK MOCK TEST-1, GK QUIZ MOCK TEST-1,
INDIAN GEOGRAPHY, PHYSIOGRAPHY OF INDIA, INDIAN RIVER SYSTEM,
महात्मा बुद्ध के बारे में जानें
पझोता आन्दोलन-1942, क्या था मंडी षड्यंत्र
सूर्य ग्रहण कैसे होता है , जाने क्या थी काल कोठरी की घटना, धामी गोली काण्ड,