COMPUTER GK QUESTIONS
COMPUTER GK QUESTIONS –– These questions are very important for JOA, Clerk , Bank Clerk, Insurance, SO and other exam where one's computer knowledge is tested. In this article important questions are given those can be asked in different competitive examinations.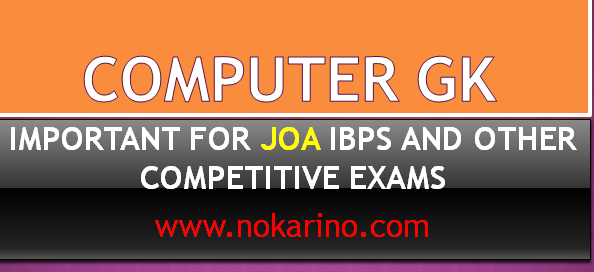 1. Expand RDBMS?

Ans : Relational Data Base Management System

2. Difference engine was developed by…..

Ans : Charles Babbage

3. Orkut.com is now owned by ……

Ans : Google

4. World's first microprocessor is ….
.
Ans : Intel 4004

5. What is SQL?

Ans : Structured Query Language

6. What is the expansion of COBOL?

Ans : Common Business Oriented Language

7. What is the expansion of SMS?

Ans : Short Message Service

8. Which IT company's nickname is ' The Big Blue ' ?

Ans : IBM

9. What is the full form of  IEEE?

Ans : Institute of Electric and Electronic Engineers

10. Who developed COBOL?

Ans : Grace Murry Hopper