IDIOMS AND PHRASES -1
IDIOMS AND PHRASES -1 Idioms and phrases meaning in Hindi Post में बताए गए सभी idioms meaning in Hindi and English का प्रयोग अंग्रेजी वाक्य में बहुत महत्वपूर्ण माना जाता है, इन सभी idioms in English with Hindi meaning के प्रयोग को सीखकर कोई भी अपनी अंग्रेजी को काफी बेहतर बना सकता है। Idioms and Phrases प्रतियोगी परीक्षाओं में पूछे जाते हैं तथा इनकी तयारी परीक्षार्थी हमारी Website यानि www.nokarino.com से प्राप्त कर अपने ज्ञान में वृद्धि कर सकते हैं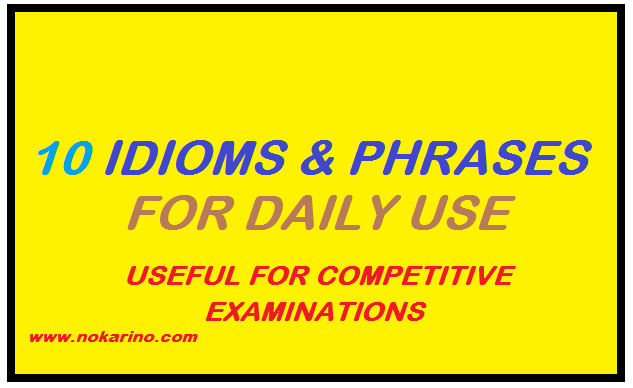 मौत की सजा – Capital punishment
The murderer was awarded Capital punishment.
2. इंतजार में रहना – Cast about for
He will cast about for an opportunity to take revenge on you.
3. जाना, भागना – Clear off
Don't bother me. Clear off !
4. बाल-बाल बचना – Close shave
My car was just about to dash against the lamp post. It was quite a close shave.
5. पता चलना – Come to light
The conspiracy came to light at the right time and plotters were arrested.
Also Read- HPGK MOCK TEST, HPGK MOCK TEST-1, GK QUIZ MOCK TEST-1,
6. मिलता-जुलता होना – Corresponding to
While digging in the field other day I found an old coin Corresponding to the one shown in this picture.
7. विस्तार से कहना – Cover a lot of ground
In his very first lecture the professor covered a lot of ground.
8. बिल्कुल खिलाफ – Dead against
Her mother is dead against her acting in the films.
9. कतई पूरा न होने वाला – Dead loss
He invested quite a lot of money in paper business but it proved to be a dead loss.
10. आधी रात को – Dead of light
The thief entered the house at dead of night.
Also Read- HPGK MOCK TEST, HPGK MOCK TEST-1, GK QUIZ MOCK TEST-1,
INDIAN GEOGRAPHY, PHYSIOGRAPHY OF INDIA, INDIAN RIVER SYSTEM,
महात्मा बुद्ध के बारे में जानें
पझोता आन्दोलन-1942, क्या था मंडी षड्यंत्र
सूर्य ग्रहण कैसे होता है , जाने क्या थी काल कोठरी की घटना, धामी गोली काण्ड,